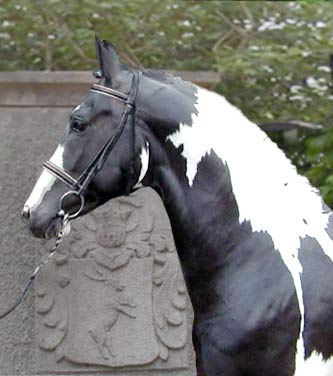 The Horse
"Sota" is a elegant approved German Warmblood stallion. He is very pretty, and will pass that on to his foals. He has a ton of energy and is a spunky horse. He has very good ground manners. He has the wonderful uphill conformation, every warmblood should have! He is a exact model of his sire.

The Athlete
Sota is a athlete, Show Jumping,Cross-Country,Dressage, or just liberty. He has many wins in those events. He won't give up, no matter how much you push him he will not stop. Tell him to jump 8 feet, he'll sure darn try to do it. You can't stop this horse, bold,beautiful, and gifted.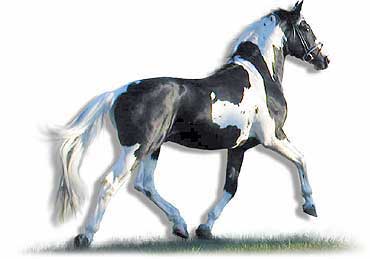 The Sire
Sota has yet to sire a foal, but the foala he sires, is automaticly invited to the German Warmblood testing once every other month.
Breeding
(left is Sota's Sire.. to the right is his dam)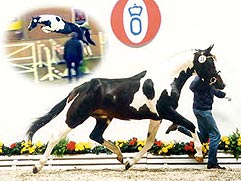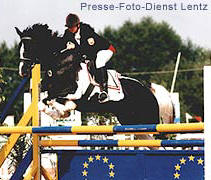 Semper
Oldenburg
Bay & white pinto
16.1 hh

Sandro
Holst

Sacramento Song
XX
Sicambre xx
Easter Gala xx
Duerte
Holst
Wahnfried
Velour
Imago
KWPN Elite
Samber
KWPN
Pericles
Tina D

Ruth
KWPN

Leander
Derlida
Indian Dream
V.Pr.St
ZfDP
tobiano pinto
Ico
Dutch WB

Marco Polo
Trak Pref KWPN

Poet
Mirakel
Sonia
KWPN Ster
Sinaeda
Lucie
Sabrina
Westphalian
Seydlitz
West
Sinatra
Dolmana StPrSt
Wage
Han
Woehler
Asternstille
Show Record
Warmblood Extravaganda
(based on page)
1st- Dressage Freestyle
1st- Best Future Sire
2nd- Liberty
1st- Grand Prix Show Jumping
5th- Cross-Country
1st- Halter
GRAND CHAMPION WARMBLOOD STALLION
Proud Family Dressage Show
4th- Freestyle Dressage
9th- Grand Prix Dressage
Stallion Only Show For 1st Time Showers
2nd- Cross-Country
5th- Colored Halter
1st- 5ft Jumping
2nd- Liberty, Color
1st- Liberty, Warmblood
9th- Most Beautiful
4th Grand Prix Dressage